BMX is a cycling extreme sport with a special bike either in competitive racing or freestyle, in road and off-road.  in early 1970 in the United States, children began racing their bicycles on dirt tracks in southern California on normal bikes and that's when BMX created. after that companies start to produce a customized bike called "BMX Bike" for better handling and performance.
BMX bikes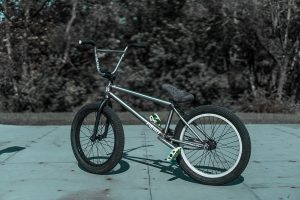 now use for race and freestyle in tracks, dirt, vert, park, flatland and street. BMX frames are made of different types of steel, and aluminum. Cheaper bikes are usually made of steel. High-quality bikes are mostly Chromoly or high tensile steel, although the latter is heavier and stronger. High-performance BMX bikes use lightweight Chromoly.
BMX Racing bike wheel size is from 16″ to 26″ and the 20″ is the most popular.
Freestyle and Dirt jumping bikes wheel sizes are 16″ and 18″ for minors and smaller riders, 20″ for most common riders and some companies offer 24″ or bigger BMX bikes, for older riders which are called cruise class. The cruiser style bikes are rolls better and easier to jump but the 20″ is more agile.
BMX bicycles models:
Street:
street style BMX bikes usually have metal pegs attached to the axles so the rider can do grind rail. Street BMX bikes are heavy and strong. They have no brakes because brake cables won't let you spin the bars. The brake is the Riders foot on the top of the back tyre.
Flatland:
flatland style BMX bikes have a different geometrical design because flatland riding needs balances on many parts of the bike.
Race:
racing style BMX bikes have a larger front sprocket to create a high gear ratio for the rider to pedal at high speeds. Race BMX bikes have brakes.
Park (vert):
park-style BMX bikes often reduce weight by removing some unnecessary parts of the bike, they have smooth transitions for park riding and usually, park style BMX bikes don't have brakes.
Dirt:
dirt style BMX bikes are similar to park style BMX bikes. They feature thicker tyres for better grip on sleazy and baggy surfaces.
Most popular companies to feature BMX bikes are: Haro, Sunday, Wethepeople, BSD
Useful links: