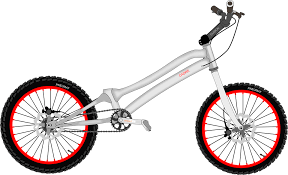 Trial Biking is a cycling extreme sport which also known as observed trials simply means the rider has to pass through natural or human-made obstacles without setting foot to the ground. Some say it is invented by a world champion motorcycle trials rider named Pere Pi i Parera, father of Ot Pi who wanted his son to learn motorcycle trials by practicing on an ordinary bicycle in Catalonia, Spain. Ot Pi is a trial biking world champion for many years.
Handling Skills is the key of trial biking and it can be done on any bicycles, but professional bikes are very light with a wide handlebar, strong brakes, low-speed gear, thick rear tire with low pressure, special frame geometry and no seat at most.
there are two official types of competition rules, the UCI (International Cycling Union which is based in Aigle, Switzerland) and Bike Trial International Union.
Generally In UCI if any parts of the bike except the tires touch any object in the course, will cause a point (Dab) and riders can compete in mod and stock but in Bike Trial International Union, parts of the bike like cranks or pedals can rest on an object without resulting in a dab.
The most common bikes are 20" Mod Bikes, 26" Stock Bikes and 24" street trial hybrid bikes.
Most popular companies to feature Trial bikes are: Inspired, Clean, Monty, Neon, Crossbow, Crewkerz, Ozonyz, GU
Useful links: