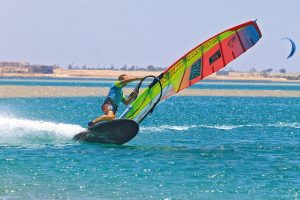 Windsurfing is an extreme adventure water sport which is surfing with the power of winds or in another word a combine of surfing and sailing. Windsurf boards come in many sizes, shapes and designs like Freeride, Formula Windsurfing Class, Wave boards, Freestyle boards, Slalom boards, Speed boards, Beginner boards, Racing longboards, Tandem Board and…  So the type of board that suits you depending on your weight, your surfing ability and the type of surfing you are tending to do.
Although most of the Windsurfers do the sport for recreation but there are a lot of competitions in different categories around the world like Slalom, In the waves, Freestyle, Speed Racing, …. And it is an Olympic game.
Windsurfing in Vancouver, British Columbia (BC), Canada has various kinds of choices because of the Pacific Ocean and lakes across the state.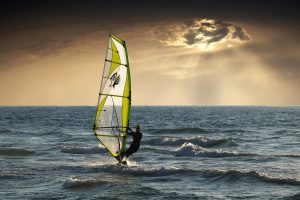 Most famous companies to manufacture Windsurfing gears are: Aeron, Arrows, Bern, , Brunotti, Capix, Chinook, Ding all, Duotone, Exocet, Fanatic, Gaastra, HandiRack, ION, JP Australia, KA-Sails, Lockjaw, Loftsails, Marlow, MFC, Mistral, MXR, Mystic, Naish, NeilPryde, Northcore, Northsails, NP, O'Neill, PD, Pro Tec, Prolimit, PSP Marine tapes, RED Paddle, RRD, Select, Severne Sails, Simmer Style, Starboard, STX, Suncure, Tabou, Technospar, Telstarsurf, Tiki, Tribal, Unifiber, Weatherflow, XO sails
Safety Tips:
Check your gear before getting in the water
Carry signal devices like whistle, fog horn, flashlight, …
WindSurf at places protected by lifeguards.
 Do not windsurf impaired by alcohol or drugs
Do not windsurf after meals
Do not go windsurfing when you are tired or not feeling well
Warm up before getting in the water
Look up weather and water condition forecasts
Do not go on water during storms and high winds
Be cautious about the sun and skin burning
Drink water regularly, dehydration can be very dangerous
Know about the Rip currents and how to get out. Don't try to swim against it
WindSurf on the winds and conditions that suits your ability
Do not get in the way or other windsurfers may crash you
Do not go windsurfing at night, dawn or dusk to avoid a shark attack
Do not wear shiny things and get out of water ASAP if bleeding to avoid a shark attack
Do not go windsurfing around bait fishes to avoid shark attack (diving seabirds in the area are a sign of bait fishes in the water)
If you get in any trouble, don't panic, be calm and think of how to get out
Always wear feet protected wetsuit, life jacket (PFD) and watercraft helmet
Check the weather and current condition before getting in the water
Always be aware of other windsurfers
Never go alone and tell somebody where you are headed before you go
Never windsurf close to rocks shallow water and swimming area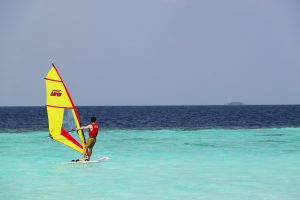 Useful Links:
http://www.internationalwindsurfing.com