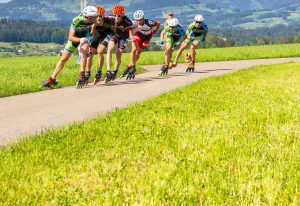 Skating is a sport which means to move on any kind of surface like ice, pave, vert ramp or rough terrain on a skate. There are many kinds of skates like inline skate, ice skate, skateboard, roller skate, longboard, mountain board, …
Although skating by itself is not an extreme sport and even a 3 years old kid can do it by a little training but it is very extreme when you speed up, doing tricks or skating on a vert ramp.
Most of the skaters do it as a recreational sport but there are a lot of competitions around the world in different categories like Ice Figure skating, Ice Speed skating, Tour skating, Freestyle slalom skating, Vert skating, Road skating, Inline speed skating, Skateboarding, Artistic roller skating, …
Skating in Vancouver, British Columbia (BC), Canada has various kind of choices and there are many skateparks in the state. Canada has the best ice hockey in the world and ice hockey is the official national winter sport of Canada. Ice skating is very popular too and not only there are more than 3000 ice skating rinks across Canada but also there are a lot of natural ice skating locations in winters on frozen lakes like Lake Windermere or Trout Lake.
Most famous companies to manufacture ice skates are: ChloeNoel, GAM, Harlick, IceDress, Ice Fire, Jackson Ultima, Jerry Skating World, Riedell, Risport, S-ONE, SP Teri, Sure Grip, Zuca, …
Most famous companies to manufacture inline skates are: 5th Element, Bladerunner,  Bont , Fila Skates, K2, Luigino, Powerslide, Roces, Roller Derby, Tour, Seba, USD, Vanilla, …
Most famous companies to manufacture roller skates are: Chicago, Kandy, Riedell , Roller Derby, Sure-Grip, VNLA
Most famous companies to manufacture skateboards are: Almost, Anti Hero, Baker, Cruz, Element, EMillion, Flip, Girl, Jart, Palace, Polar, Real, Santa, Sk8mafia, Sour, Toy Machine, …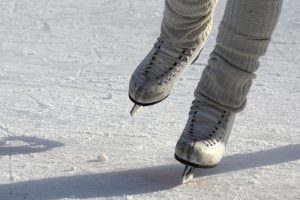 Safety Tips:
Check your gear before getting on ice or …
Pick the right size of skate shoes
Carry signal devices like whistle if road skating or ice skating in frozen lakes
Always Ice skate at places protected by lifeguards.
Always Ice skate at lakes that the ice has approved thickness
 Do not skate impaired by alcohol or drugs
Do not go skating  when you are tired or not feeling well
Do not skate on wet surfaces
Do not skateboard in crowded areas
Do not skate at night
Do not get towed by any vehicle
Lookup for the rules in the skateparks
Warm up before skating
Be cautious about the sun and skin burning
Drink water regularly, dehydration can be very dangerous
skate on the terrains and conditions that suits your ability
Do not get in the way of other skaters may crash you
Always wear a helmet, knee pad, elbow pad, wrist guard, gloves while skating
Always be aware of other skaters
Never skate on streets and sidewalks
Never go alone and tell somebody where you are headed before you go
Carry a cell phone so if anything happens call 911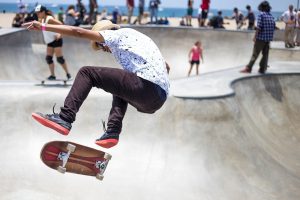 Useful Links:
http://worldskateboardingfederation.org